Not In Equal Parts

A cell phone alarm announces the time, and a finger reaches over to silence it. Marin rises from bed and performs a huge stretch. Marisa, still snuggled under the covers of their shared bed, complains it's too early. Marin tells her to go back to sleep, saying she has to go in early to make up work missed because of the full moon. When she accuses Marisa of missing her werewolf heater. Marisa replies that it's cold. As Marin continues getting ready for work, Marisa relates that she and Elias are going to track the spell on his friend today to find out where it comes from. Marin tucks Marisa back into bed and kisses the top of her head as she says her goodbyes.[1]
The rude guy is once more at the counter of the coffee shop, this time complaining there's not enough foam. Plastering on a fake smile for the customer, she loses the smile once she has turned away from the man. She tosses the once more offending cup of coffee, complaining of a waste of a perfectly fine weird-ass drink.[2] Coming out of the kitchen with a tray of scones, Charlene notices the that the rude guy is back as Malaya prepares a fresh coffee. The bell over the shop door jingles as a customer comes in from the weather. The tall, nattily-dressed woman comes up behind the rude guy just as Malaya is handing over the latest, perfect, offering, thunking it down on the counter. Checking the cup, the man grunts out an approving "better" as Marin gives the man a disapproving look. When the rude old man shuffles away sucking at his drink, Malaya finally recognizes Marin standing in front of the counter.[3] Marin introduces herself properly, and Malaya apologizes for being a big hairy beast the last time they met. Charlene chimes in, telling Mal that she was going to tell her that story later. Marin places her latte order and then asks Malaya if she'd like to go shopping. Mal shirks behind her werewolf issues, claiming it wouldn't be safe. When she mentions that her mother buys her clothes, Marin states firmly that they have to fix that. Malaya remains diffident about the offer. Bending down toward Malaya, Marin recommends that Mal should text Elias. When Malaya asks why, Marin whispers back that he and Marisa will be tracking the camouflage spell. She goes on to say that they might find where the strange wolves live.[4] With Charlene urging her to go, Malaya says she'll think about it. Marin tries one more time, then she takes a sip of her latte. She compliments Mal on the drink, saying it was really good. She tries to settle her bill, but Mal tells her the latte's on the house.[5] Marin tells her she appreciates it, and then drops a bill in the tip jar. Curious, Malaya pulls the bill from the jar and discovers Marin tipped her twenty dollars. Claiming the tip is too much, Marin tells her it's not, and urges her again to text Elias.[6] While she's contemplating the twenty dollar tip, her phone sounds off, announce an incoming text. For the benefit of anyone who noticed, she announces it's Elias. He asks her to go spell hunting with him and Marisa, and she replies, asking if he'll teach her werewolf stuff. His response is very enthusiastic. She tells Charlene she'll be spending the afternoon learning stuff, and she tells Mal to make that tall, weird kid teach her everything he knows.[7] Scratching nervously at her hair, Malaya asks Charlene if she'd like to come. Charlene tells her it might not be a good idea. Witches can get even more territorial than werewolves, since witches have no rules to govern them. She says that witches pull energy from the Earth to do magic, and it returns to the Earth when they're done. She advises Malaya that she doesn't want too many people messing with the primary source of her magic. It might mess up with the trees, or something. Malaya expresses her amazement at her words. Charlene finishes, saying you have to be careful in a new territory, which is why she moved to Michigan. Too many witches in New Orleans. Malaya tells her she's glad she came: Charlene's scones are better than her own. Charlene says that's because she hates scones and bakes all her spite into them.[8]
Defending herself, Aubrey tells her mother she'd tried. Her mother says it wasn't a bad plan, just that she was scared off with parlor tricks. Connie goes on to says that that witch is a charlatan, an illusionist, and that anyone who paid attention would have known she wasn't a threat. Then she points out that Aubrey has now run away from the target not once but twice. Aubrey tells Connie she doesn't know how to tell the witch was faking, saying Connie is the only witch she knows and she hadn't taught her anything. Connie demands that Aubrey not take that tone of voice, saying that what she doesn't know is not her fault. Connie goes on to say that in effect, she shouldn't have expecting much from her, but they still have to get girl. Aubrey pleads with Connie to tell her why her, why now. Connie asks her if she really wants to know,[9] answering her own question by saying she guesses Aubrey would. Continuing on, she says she knew she shouldn't keep things like this from her. She reminds Aubrey that she said the pack needs to expand to keep her from dying; she now tells Aubrey that, if she dies, the pack dies too. Distressed, Aubrey expresses her confusion. Implacably, Connie claims they are all connected, and she needs more power to keep the other witches and werewolves at bay. She further claims, that even if they survive her death, they won't survive their enemies who have been pressing at them for the last twenty years. Then she reiterates that they won't survive without her if they don't get her more power.[10] Aubrey, looking sad, asks again, why Malaya; aren't they enough? Connie replies that for a long time, they were, but this rogue werewolf is strong. She claims she knew from the moment they found her that she had helped create, and she wants her back.[11] Connie instructs Aubrey, telling her to find Malaya and let the others in on what she'd said. She leaves for her office saying she's not to be disturbed. As a last word, Connie tells her she expects a new plan by the end of the day, leaving her standing there in the kitchen looking forlorn. Harvey asks from a doorway what that was about, and Aubrey replies that may have a problem.[12]
Knocking on the door, Harvey steps into a well-appointed bedroom. Looking around, she tells the room's occupant that she knows who mama loves best. Harvey walks up behind the girl at the desk and asks what she's doing. The girl tells her she's attempting to learn math. Harvey recommends that she approach Marcus, presumably another of the pack members, saying he's good at it. The girl answers she want to try on her own, so that Marcus doesn't think she's an idiot–her words. Harvey's answer is that she's not and idiot, just that none of them had gone to school. Rubbing the top of her head, Harvey offhandedly says that she'd spoken to Aubrey and that she'd said she needed the others on her side with the whole "steal-a-werewolf" thing, and that it's more serious than they'd thought.[13] The girl says that Connie says that but won't tell them anything. Harvey tells the girl that Aubrey said Connie's going to take them with her, saying if she goes, they go, and something about being torn apart without her protection. The girl claims that Connie always lies. Desperately, Harvey rants that they have no education, no social security numbers, no birth certificates, no place else to live, no money, not even last names. Going on, she says they'd be screwed without Connie. Then she mentions Tim and his hardship being a liability in public. The girl tries to beg off, saying she can't transform even far enough to get claws. Harvey tells her her support is just as important, and she claims that if she asks, Marcus will go along too. The girl says she'll try, if they really need him. Harvey hugs her from behind the chair, and tells Ginger they need them both.[14] Heading out of the room, Ginger calls her back, asking if she ever learned math. Harvey thinks she remembers learning math, among other things, from her parents and being good at it. When Ginger asks about remembering her parents, Harvey admits remembering the feelings they gave her, not the parents themselves. Ginger wishes she could remember her own parents. Harvey says she could remember her name is Harvey. She wishes Ginny good luck and leaves the room.[15]
Elias is busy cooking scrambled eggs in what turns out to be Marin and Marisa's kitchen. Marisa joins him there, yawn and stretching and scratching at her bedhead. Eli sasses her about getting up at eleven a.m. Marisa's to-the-point answer is she works to three a.m. and he's out of a job, so shut it. Using earthy language, Marin tells Eli he had better be sharing the eggs. He acted liked Marin had said he could have them to support his growing werewolf, then admits he'd made toast too, and he planned on sharing it all. His admission seems to have mollified her.[16] Joining his host at the kitchen table, Eli lets her know that Mal plans to join them for the spell hunt. Marisa likes that idea, that will make things easier for her. Eli asks who she thinks they'll find on the other side of the spell. Mar says they're going to be a witch, not a werewolf. You get to get your energy externally or internally, but not both. He asks if it might be an acquaintance, she says that there aren't that many witches. Crescent Lake's a college town and that impacts the available energy. Now Elias asks what the plan is, Marisa replies they are going to put on hiking shoes and traipse all over the countryside trying not to get noticed by a powerful witch and possibly her werewolves. With a worried face, Elias tells her that's not an actual plan. She answers that plans are for chumps.[17]
Malaya is bussing tables, when Vincent walks in with his ubiquitous leather carryall. The siblings greet each other, and then Vincent takes the dish basin from his sister, getting a smile from her. Spinning the cleaning rag on her finger, Malaya diffidently asks what brings him into the shop. His succinct reply is tired and the coffee on campus is awful.[18] Vincent observes that the crowd left early, which Malaya allows is great, as she's taking the afternoon off to go spell hunting with Eli and his witch friend. She tells him that she's going to get Elias to teach her some more werewolf things. Vince sets his cup down and grabs Malaya in a bear hug.[19] He tells her he's so proud of her for finally leaving the house to go somewhere she's never been with people she's not related to. He's proud that she's handled the werewolf thing and that she's never tried to eat someone. He says he's happy for her. (Here the author decides to point out that the third panel is Vincent's happy face.) Malaya tells him that that is the most words she has ever heard him string together, and she's proud of him too. He asks if she'll need a ride later, and answers that she'll let him know. He does the brother thing, saying "love you" and leaves.[20]
How to be a Werewolf celebrates its first year anniversary.[21]
Bundled up against the cold, Malaya, Marisa and Elias stand in a clearing as Marisa concentrates on gathering the necessary energy to cast the tracking spell. Holding the energy in a glowing blue ball of light, the bands of the spell curl first around her and then they lash out around Malaya, startling her. Finally, having 'sniffed out' the spell on Malaya, the tracking spell forms into a glowing blue fox that pads off into the woods.[22] Malaya asks about following the magic fox, and Elias tells her it will lead right to the source of the spell. She nervously asks what they will do if the run into the witch or the werewolves. Eli's answer is to run like hell. He says that based on her observations, the werewolves are unsure of themselves and not very united. Marisa assures her that a werewolf can outrun a witch's ability to cast a spell.[23] Malaya has doubts about that, so Marisa tells her that only one witch could outcast a werewolf's speed: Flora Conradine. Thirty years ago, Flora was a bid deal in the witching world. Marisa's not sure what happened to her: she may have died, she might be in hiding. Marisa read somewhere that she became involved with a werewolf; a scandal at the time, not so much anymore.[24] Malaya wants to know if witches keep track of each other, saying she'd heard they could be territorial. Marisa says a witch wants to keep on eye out in case they cause trouble, but they mostly keep away from each other. While the girls talk, Elias communes with a squirrel. Sometimes, Marisa offers, a witch like Flora will gain celebrity… Elias interjects with an aside to Malaya that Marisa is not telling the whole story, that witches and warlocks are gossipy and mean. Marisa responds loudly that it isn't true, while Elias looks on with a smirk. Marisa claims that werewolves are ten times worse with all their stuff. Elias laughs and calls her easy, she call him an asshole. Malaya points out that the blue fox has found something just as it turns into Tim, the weird one as Elias calls him.[25] Marisa points out that for her spell to pick it up like that, he must be there a lot. Marisa complains about how close it is to her house. Elias asks if he looked half-transformed the first time she saw him. Malaya admitted that though it was dark, he didn't look as human as the others. Elias wonders aloud if he's like that all the time. He tells Malaya that a pack usually helps with that so a pack member isn't pulled toward one side or another. Mal gives him a skeptical look and says "Sides?"[26] Marisa tells Elias, as she jumps over rocks while chasing the fox, that he's going to have explain that. He starts by saying that once you're a werewolf, you are just a werewolf, not a wolf, not a human. Some werewolves tend to the wolf, other tend to the human, having a hard time changing. Being in a pack helps a werewolf stay in the middle: easy to stay human, easy to access the wolf. Marisa is squatting on the ground watching her spell behave like a real fox with fleas and asking it why it's acting like that. But, Elias continues, as a werewolf gets older, control becomes difficult again. Looking grim, Malaya wants to know about that.[27]
Elias tells Malaya that, as a werewolf gets older it's constantly healing itself. Technically, weres live a really long time, but when the were reaches the end of a regular human lifespan, the healing takes over to such a degree that they become more wolf than human. Always. Elias muses it was just like his grandmother. Before he was born, his mother had to keep his older siblings away from her because she kept growling at them.[28] So one night, she went out back into the woods, transformed to full wolf, and never came back.
Coming back from his reverie, Elias says that's what usually happens, and then the werewolf lives out another life as a wolf with the other older members of the pack. Malaya grumbles that she doesn't know if she likes that, and Eli tells her there's no other choice. Right then, Marisa announces they've found the place.[29]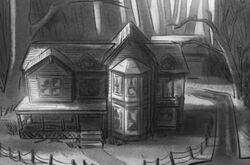 Malaya, Marisa and Elias stand on a rise looking down at a rundown, two-story, turreted house with a wrap-around porch and a paved driveway that leads around back of the house. The blue fox, apparently pleased with itself, wriggles on its back on the ground in front of them. Marisa swears she never seen so many ward in one place. Elias thinks the house is a modern ghost story where you die at the end. Malaya says she could like the house, with a little work. Elias agrees that if the house didn't look like the Earth wasn't try to swallow it, it would look different. Marisa growls don't be a dick at him.[30] Spotting Tim in the yard, Marisa asks if that's the werewolf the showed them. One of the others answers yes, and that he seems to have spotted them. Concerned, Malaya asks if they should do something, to which Elias asks offhandedly against one weirdo hanging out in his yard, he's only staring at us. Disappointed, Marisa remarks that the day had ended somewhat anticlimactically. Then she shouts that Tim is coming towards them.[31] Marisa urges her spell fox to lead Tim away, which it does quite admirably. Elias remarks that it worked better than he'd expected. In the end, Tim catches the spell, and it dissipates into blue fog.[32] Malaya comes to the logical conclusion that if Tim is at the house, the others must be too. Her concern deepens as she mentions they're only a couple miles from her house. Elias believes they should rethink their lives cause no one should be living in a living manifestation of tetanus. Malaya questions anyone living there by choice, and tells the others she feels bad for them. Elias says seriously that if they're the ones killing people, they'll get no pity from him. Marisa totes up all the strangeness going on, ending with asking how it all adds up.[33] Elias says now that they know where the spells came from, they need to get in touch with his mother and alpha, Sara Ross, before they go any farther. Malaya happily remarks that they didn't have to run for their lives. All innocence, Elias tells the others they could still run, just because. Marisa asks if maybe to celebrate not getting in trouble, and in a small voice, Eli says his mother would have killed him if he started a political incident. The three look around as if pondering a great decision. Next thing we know, Eli has Marisa in his arms, and Elias and Malaya are racing back home. Eli tells Mal she's fast, she says she never gets to run like this.
Back at the house, Connie watches them from a window, holding back the drapes.[34] She continues watching them until suddenly she cries out in pain. Staggering to her desk, she collapses into her chair with her brow furrowed. Putting her fingers to her head, she calls out in pain again.[35] Reaching out with shaking hand, Connie grabs the potted houseplant on her desk and squeezes. As the pain in her face eases, the plant wilts and dies in her hand. Still shaking, she puts her head down and tells the black wolf sitting in the shadows in the corner of the room that she's not going to let her win.[36]
Walking away from the Crescent Lake University, Vincent reaches out to Malaya, and, speaking Tagalog, asks if she needs a ride home. Malaya tells him she's already home, watching TV and knitting. Returning to English, they squabble about a show named Scandal. Walking towards his car in the dark parking lot, Vincent carefully asks how her … thing went, then going back to Tagalog, asks about her trip into the world. He uses his car's remote to unlock the car, and it chirps and flashes the lights. She answers back, in Tagalog, that all went better than she'd hoped, and he tells her it's an improvement.[37] Malaya tells him that it might turn out okay, that she might get to the point where what she is won't scare the hell out of her anymore. Throwing his ubiquitous leather carryall into the backseat of his car, Vincent asks if the found anything, and Malaya quickly tells him about the house and Tim's appearance, She promises more when he gets home. Mixing languages, they say their goodbyes and hangup. Vincent whips his head around at the sound of a crunch off to the side.[38] Vincent looks around suspiciously then seems to deem it innocent. Suddenly, a glove hand covers his mouth, and his eyes go wide in shock. His keys and phone fall to the ground, the phone not surviving impact. The two articles lay forlorn on the ground, left behind by his assailants.[39]
References