Connie is a mysterious figure. Her little pack of odd werewolves were obviously not obtained through legal means, but she's not overly concerned with that.
A very, very powerful witch (at least at some point!), Connie surrounds herself with plants in her near pitch-black office where she tolls away making money through various online endeavors. Despite the dilapidated house she and the pack live in, Connie often wastes her magic to maintain a perfect illusion around her.
Biography
[
]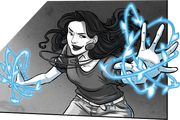 Flora Conradine was a very powerful and famous witch, and her main ability was control over plants.
During a very complicated relationship with a werewolf called Thomas, she got pregnant and ran away from him, because they had previously agreed not to have any children, and she didn't want to move in with his pack.
After some time she calls Thomas asking to meet him again. She's already several months into the pregnancy and they get into a fight, because Flora does not agree to join Thomas's pack to get the magic she needs in order to make the baby grow. She tries to tie him up with a spell so he stays with her by force, but he manages to breaks free from the spell, scratch her with his wolf hands and runs away, leaving her to die.
Then Ziva shows up and gives Flora some energy, probably from an instinct to protect the unborn baby Aubrey. In the process, Ziva and Flora somehow become permanently connected, and Flora becomes capable of controlling Ziva's mind.
Flora then moves to a house in Crescent Lake, and gives birth to Aubrey. She also changes her name to Connie Greensmith, and uses energy from both Ziva and Aubrey in order to maintain several protection spells around the house. In her greed for more magical energy, she makes Ziva turn other people (usually kids) into werewolves, so that she can use them as batteries.
Recent developments
[
]
Connie's need for extra energy grew. The earth was taking more and more of it back, and her wards were costing ever more energy. Her wolves were using more of their energy for themselves. Maybe sensing that Thomas was approaching, Connie grew desperate and withdrew to her study at the back of the house to cast her wards. She channeled so much energy from the werewolves that they couldn't leave the house, and after a while, could hardly move. Finally, at the Full Moon, when the magic channeled through the wolves was strongest, her magical vines stretched out of the house and tried to capture Malaya, who had come to check on Aubrey and the rest. During the conflict, Aubrey freed her pack mates from the vines, and they were finally able to access the full power of the moon and transform fully. Then, Malaya figured out that they can take back the magic stolen from then, and all of Connie's wolves took back their energy and left her to deal with her magic debt.
Connie was last seen been swallowed by the earth, pulled down by her own magic vines.
Trivia
[
]
Connie is Shawn's favorite character to write. [1]
All the parents in HTBAW are coming from different perspectives on parenting, with Connie the only one being bad at it.[2]
Connie is based on what's known as Cluster B personality disorders, specifically Narcissistic Personality Disorder. [4]
References
[
]